Activities and Tours for ESL Students Learning the Gift of English Fluency !
Cebu Languages ESL School has all of the fun in the sun activities available at our English Language Center.  Learn English courses and enjoy all the tours of the Philippines. When you are not in class to study, you can relax or do all the physically challenging water activities right at our school. Other destinations are made easy with our trusted drivers and guides that charge local prices. We do not charge extra just because you are a visitor. Read more about tours and activities options below.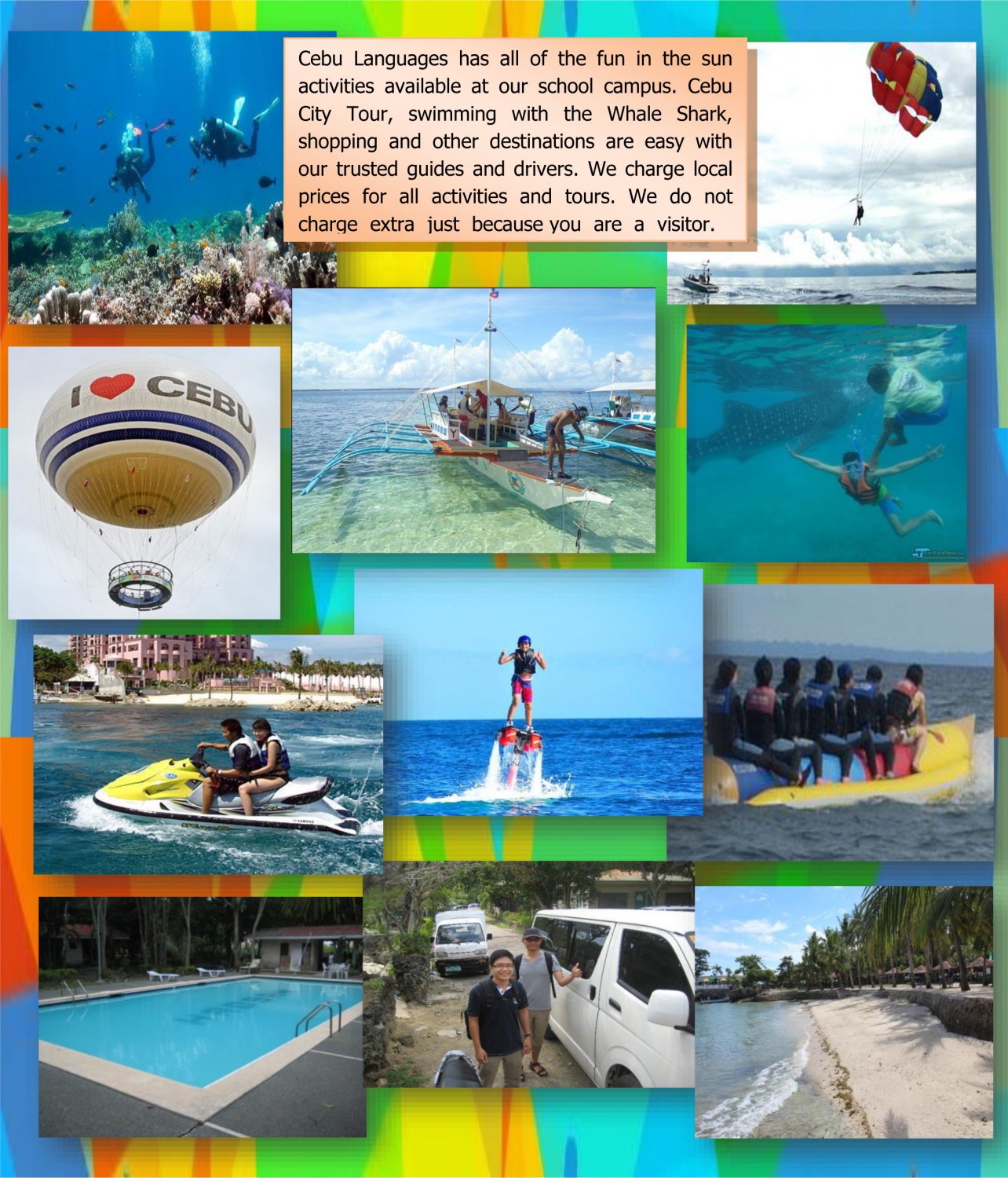 School Location:
Balloon ride
Banana Boat Ride
Fly Boarding
Island Hopping
Jet Skiing
Kayaking
Parasailing
Scuba Diving
Snorkeling
Swimming Pool
Unlimited Beach access
 Half Day Activities:
ATV Riding
Casino Night
Bowling
Fishing
Pistol/Rifle Range
Golf
Rope Course
Sky Tops
SkyWalk/Edge Coaster Ride
Tennis
Wall Climbing
Zip Line
Full Day Activities:
Caving
Cebu City Historical Tour
Cebu City Shopping Tour
Horseback Riding
Jungle Obstacle Course
Oslob Whale Shark Swimming
Shopping Excursion
Sky Tops Scenic Outlook
Tumalog/Kawasan waterfalls
2+ Day Touring:
Bohol Island–  local and international crowds, Chocolate hills, historical sites, Loboc River buffet, Tarsier(Smallest monkey) white sand beaches …etc.
Comotes Island–  favorite with locals, beautiful beaches, ATV, caving, scuba, snorkeling … etc.
Boracay Island– music and dancing every night, international crowds, white sand beaches and all forms of activities.