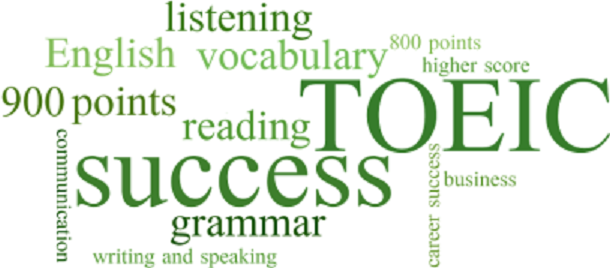 TOEIC Study Program, Test Review Preparation for English Learners in Cebu, Philippines
Cebu Languages ESL School offers student courses for TOEIC study testing. Cebu Languages TOEIC Study Center is managed by our Expert Native Speaking Instructors in Cebu Philippines and partner institutes. Our TOEIC English School guarantees you success. Learn English before you begin studying TOEIC with our General English Course, for all English levels.
The TOEIC test was designed as a tool to measure a person whose first language is not English. The ability to effectively communicate in English and to see how fluent they are. It's a way for businesses to judge if a person is qualified to become one of their workers and to remain one of their workers, or sometimes if they deserve raise or not. Students in this program develop balanced proficiency and fluency in the four key areas of  TOEIC communicative skills: listening, reading, speaking, and writing. We have Examined the common keynotes of topical importance when passing the TOEIC exam. Students practice the methods used in American, Canadian, British and Australian universities as they analyze and produce academic work in English.
You will develop an expanded range and depth of sophisticated practical vocabulary in the form of lexical presentations. We devolve and improve your receptive skills translating to increased fluency of English as individuals and as a group, within our classrooms. Our instructors use actual and relevant contextual materials such current event news articles, travel informational brochures, social and environmental awareness subjects as topics of context. You will be confident that you are gaining useful knowledge when expressing opinions in an English drivin world.
Students should know the appropriate TOEIC exam they need to focus on and the minimum target score applicable (suggested range 605-990), prior to arrival in class:
Listening and Reading test
Speaking and Writing test
We promote you to study and practice English that is useful in real life and focus your gained knowledge. Our goal is your success in passing the TOEIC exams with higher than expected band scoring. If you want to work in an international corporation, a government agency or at a company in an English speaking country, you need to prove to them that you have the skills to excel at your job. Follow this link to learn more: Success in TOEIC
Prices are listed as US Dollars
1 WEEK
$ 375
4 WEEKS
$ 1,270
12 WEEKS
$ 3,750
16 WEEKS
$ 5,000
20 WEEKS
$ 6,250
24 WEEKS
$ 7,500
Airport Service
$ 50
TOEIC Study Test Review Preparation Package includes your TOEIC Study Course, lunch and a shared room in our Cebu Languages Mandarin Homes. Please follow this link: Mandarin Home and read about our accommodations. The low cost of these accommodations is ideal for students who enjoy cooking and enjoying a quite multinational upscale subdivision.
Prices Listed Below:
TOEIC Test Preparation Course, Mandarin Home Accommodations and Lunch, Monday - Friday in US Dollars
4 WEEKS
$ 1,670
12 WEEKS
$ 4,950
16 WEEKS
$ 6,475
20 WEEKS
$ 8,125
24 WEEKS
$ 9,750
Airport Service
$ 50
Levels accepted:
Pre-Intermediate

Intermediate

Advanced Intermediate

Pre-Advanced
Starting Date:
1st Monday through the 2nd Monday of each month (first 6 school days of the month).
TOEIC Study Courses are inclusive of:
classes from Monday to Friday

intensive 50-minute sessions with a highly qualified instructor

4 hours TOEIC morning session (3 to 6 students)

2  optional hours of 1 to 1 classes in the afternoons

2  optional hours ESL afternoon session with a Native Speaking instructor (5 to 10 students)

students from different countries

diagnostic and simulation exercises

TOEIC materials and unlimited practice exams

sessions include: tips and exam strategy, grammar, vocabulary, and pronunciation classes

coaching and feed backing with instructors

TOEIC Examination Registration Assistance